December 24, 2019 by Anu
08 - MARKETING AND SALES CONSULTING

Why would my organization need Marketing and Sales Consulting?
WHY WOULD I NEED MARKETING AND SALES CONSULTING?
A thought-provoking question, isn't it? Well, here's the answer that you are looking for.
Marketing landscape, especially, digital marketing landscape is changing very fast. More and more companies are feeding in Millions of Dollars through various digital channels to attract more and more customers.
The biggest and the brightest organizations have made the omnichannel marketing almost a norm in their daily practices. Their promotion and lead generation is happening all the time. And that's how they are winning. Digital marketing is no more a secret, however, proper digital marketing strategy still is. We give you the keys to unlock that secret.
HOW TO WIN OVER YOUR COMPETITORS IN YOUR NICHE?
We all know, every business wants to win. To win, one must have the best resources to get the fastest results possible. But do you know the best resources and the strategies out there to get you the best and timely results. That's where we come in.
Not every business is the same, we all have different needs. For example; while one business may need a fully managed campaign, others may want the expertise and knowledge of industry experts to work in tandem with their in-house digital teams. Retain the skillset in-house and stay in complete control of your campaigns, whilst gaining the best professional advice and guidance around.
Thus, consulting is a win-win scenario, and in-fact the best one. To enhance your reach through most effective campaigns and drive ROI, you need the best. Think about Digital Marketing consulting from Concepro. Think about your expert advantage.
HOW CAN CONCEPRO HELP?
There are a number of ways we can support your digital campaigns. In our agency every aspect is precisely crafted to meet the demand of your business. So whether you need an entire strategy or just the regular updates, we are here to help you. We have developed our very own AGILE™ method for guiding you through this.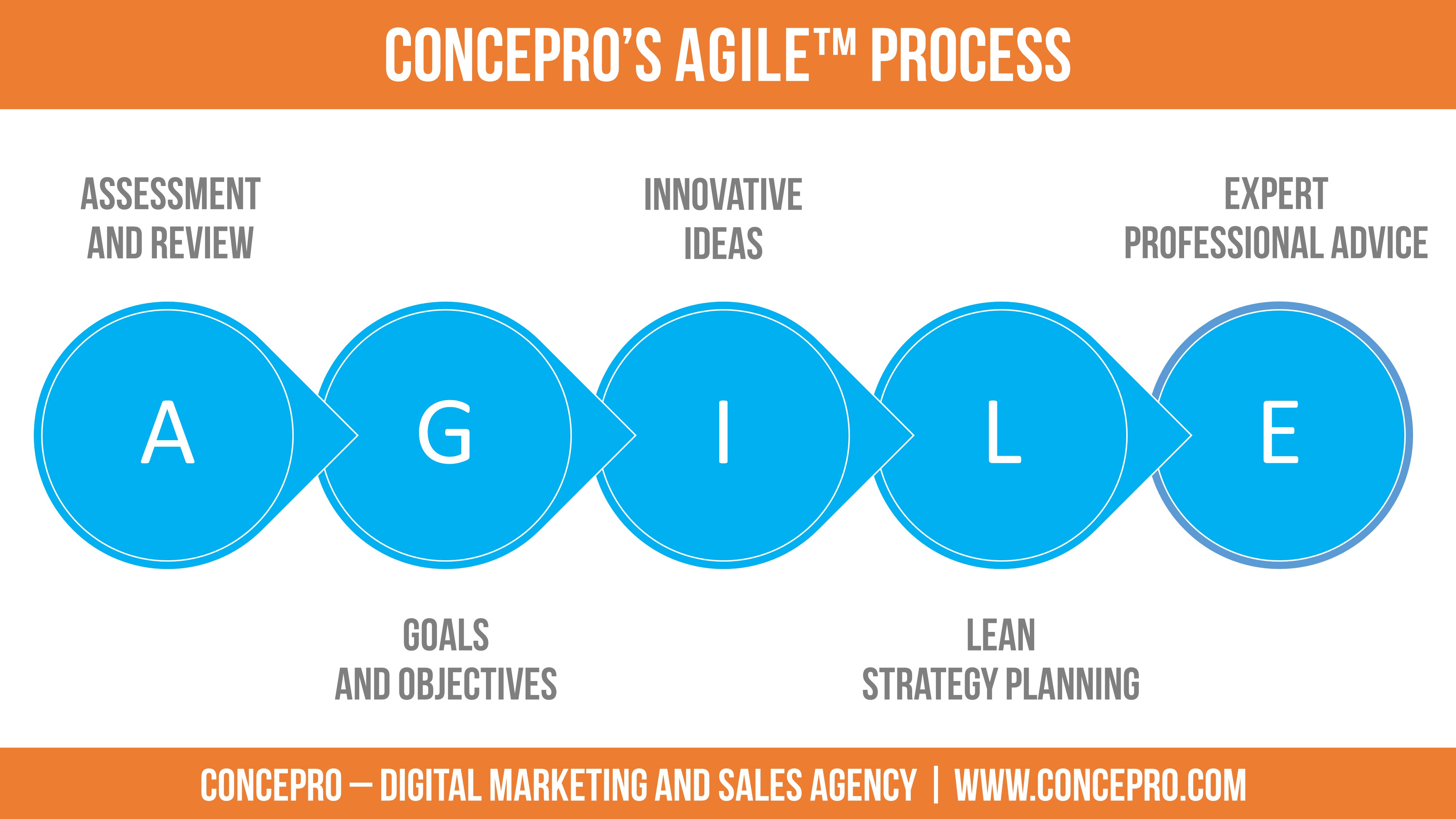 Here's our method in detail:
Assessment and Review – Through objective research and analysis, we will establish where you are, and where you want to be. And then we will devise the best and the fastest way to get you there.
Goals and Objectives – We will work with you to establish what you want to achieve, ensuring your campaigns have both focus and direction.
Innovative Ideas – Our team of creative specialists would produce bright and innovative campaigns for you. And the ideas are built upon effective digital campaigns. Our creative ideas are here to guide your campaigns. With innovation and timely changes, results are guaranteed.
Lean Strategy Planning - By Taking advantage of our expertise and years of experience in digital marketing, you could get a certain advantage over your slow and traditional competitors. We will work with you to provide you with the right tactics and approach. No matter how many resources you have. Using our 'Lean Strategy', we will plan the most effective channels and solutions that will bring in the desired results, for sure.
Expert Professional Advice – Being up-to-date with industry trends and news, practices and developments means we can share with you the very latest advice and guidance. Our timely advice has been proven to be game-changing for many our our clients.
ALRIGHT, I AM IMPRESSED. IS THERE ANYTHING THAT I SHOULD KNOW STILL?
We are here to consult you for one and all digital solutions. There are a wide number of areas on which we can consult and help you with. Some of them are:
Content Marketing
Web optimization
Analytics & Conversion Rate Optimisation
Pay per Click (PPC) + Sponsored Ads
Search Engine Optimisation (SEO)
Social Media Marketing Strategy
Brand Monitoring
Company presentations
Creating and presenting your Brand Story
We're proud of the work that we do and the fantastic clients we have worked with. If you want to know the piece of advice that might change the game for you, just let us know, and we'll get you there.